Energy healing
Restoration from disharmony and energetic imbalance by engaging one's Divine team to return balance of energy flow on physical, mental and emotional levels.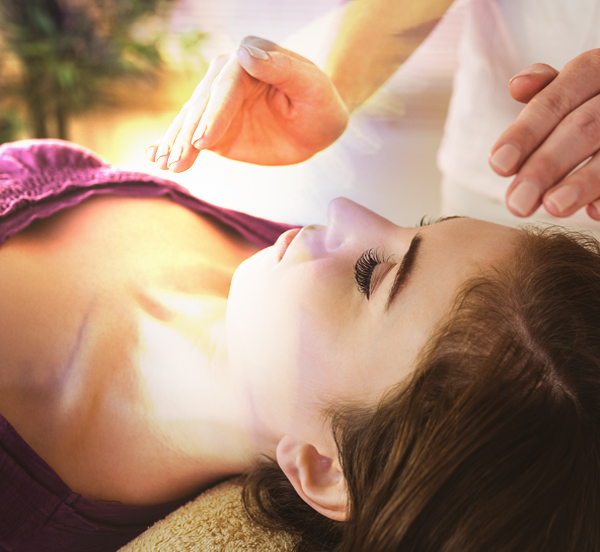 You may think that I, as the practitioner, am the one doing the healing. Although I am involved and present, I am not creating and sending forth the energy to you. I only establish an energy-driven connection or bridge if you like, between your guides, guardians, higher self and the Divine with you, that then allows for transfer of  the Divine energy to you.
When you experience stress, anxiety or fatigue, Energy Healing can help you relax and enhance your wellbeing.
There are several aspects of the energy healing that occurs in the session:
Establishing the Divine connection:
Your Guides and Guardians are always there to help you, but sometimes they cannot reach you because of the disconnection and disbelief in them. I will help you reconnect to your Guides and Guardians to allow the energy transfer.
Intuitive body scanning for disorder:
Knowing where there is disharmony in the body often helps identify areas that may need special attention. There may be more than one area to be found. In that case, maybe more than one energy session is needed.
Chakra clearing and balancing:
Often this leads to renewal in overall energy and vitality and can help alleviate sleeplessness and altered wake/sleep cycles. The 7 major Chakras are intuitively scanned for blockages beforehand to help identify areas that may need special attention.
Benefits of energy healing:
Relief of stress, anxiety, worry and depression:
You may find clarity in your thinking and answers to problems or life issues that you had not previously considered or contemplated. The increasing understanding and adjustment to life's difficulties and challenges will help relieve your stress, anxiety and depression.
Gaining feedback from your Guides and Guardians:
When possible and appropriate, your Guides and Guardians will give you feedback. The feedback may include any actions that you need to take to aid your healing experience.
What you will experience:
During the session, I will launch a request on behalf of you to bring healing and comfort to all ailments. Once requested, I will focus on maintaining the healing connection and leave the rest up to the Divine. You will often feel an immediate sense of calm, peace, and an overall sense of well-being.
The process
Step 1 – Appointment booking:
Contact us through the "Get In Touch" page on this website. If you have any question or doubt before deciding on booking an appointment, I would love to hear from you.
Step 2  – Conversation before the healing session:
We will have a 20 to 30 minutes conversation to find out the problems that we are going to deal with, and help you relax before starting the journey of energy healing.
Step 3 – Energy Healing session:
Sit back and relax. Let me and your spirit team (guides and guardians) work on you and let it happen in the best possible way for your highest good.
Step 4 – Feedback and Advice giving:
When possible and appropriate, feedback is often given from the client's Higher Self, Guides and Guardians, as to any actions to be taken by the client to aid their healing experience in line with their highest and best good.
Distance Energy Healing:
The Energy Healing is available as a distance healing session. We can make contact via phone or Zoom and conduct the healing session remotely. We can chat before the healing session to identify your needs and answer any questions.  After the healing session, I will also contact you to give you feedback and advice. The session will take around 1.5 hours to complete.
Hands-on Energy Healing:
My therapy room is in Melbourne. You are welcome to book a hands-on healing session via contact through the "Get In Touch" page on this website. There is no need to worry if you are a person who is not comfortable with direct touch. You can be easily accommodated and find equal benefit to a hands-on session. Before the healing session, we can discuss the areas of concern and answer any questions you may have. The session will take around 1.5 hours to complete.
Disclaimer:
You are paying for our time, but we cannot promise the divine realm will do all you wish to have happen. There can be many reasons for this, including the fact healing takes time. There may be a problem that is a karmic lesson that simply has to be endured for learning purposes and may not be disturbed. Our work is spiritual and complementary to conventional healthcare services. Lightness of Touch and all related entities, in connection with Lightworker Healing Protocol sessions, make no guarantees or representations regarding medical diagnosis and/or medical treatment, and are neither diagnosing, preventing, nor treating specific health challenges. You are solely responsible for your own medical care. If you are not satisfied with our best efforts, we have a 90-day refund policy.